Madison Rabbit - Another great game from Kidoons Network.
Mae's Flower Shop - Since your the flower shop girl you should be as bright and colorful as the flowers you sell in your shop. Choose from a wide range of items to come up with todays outfit. Enjoy!
Mae The Sporty Biker - This bike rider loves her fashion, she wont leave the house unless shes looking perfect. The reason she has to look so good is because she has no idea who she might meet. Help her get ready for her bike ride this afternoon.
Magic Mare - Custom create your dream pony. Choose the mane color, tail color, and body color. Add a horn and make your horse a unicorn. Give your horse wings and make it a Pegasus. For a Native American pony, add some war paint. Even put armor on your horse and make it ready for a knight's battle.
Magical Doll Power - This doll has some amazingly magical powers, just looking at it might melt your mind. Its lucky she has asked you for some help, you must be on her good side! Help the magical doll choose the right outfit for her status.
Make a Family - Dressup all the family.
Make Me Emo - Emo makeover for punk emo girls is just not dressing the hairstyle. Think out of the box of emo culture and society. Get this angry emo girl happy making her makeup a trend. Can emo fashion change the girl's emotion? Pick the best hairstyle, color, nail, band and many more interesting punk accessories.
Make your own field day - Funny scenes, with many accessories to spend a perfect sunny day.
Make Over Solutions - For both men and women: Try new hairstyles, hair colors, makeup styles, and accessories, using models or upload your own photo
Maker Heaven - Build your own dolls.
Makeup Makeover - from HannahMahfood.com
Maggie - Dress to Express
Magical Dressup - Dressup Angels and Princess with magic costumes.
Magical Dresses - For Enchanted Girls. If you love Fashion, Here is the place!
Magic Jar Shop - Make a Magic Shop full of magic jars.
Make a fashion shop - Welcome to FASHION SHOP, the mega store!!! The place where you can create a luxury shop with the latest trends.
Magic Pony - This magic pony is a flying colorful spreader of joy and happiness! So color her in some beautiful gems, bracelets, and even a nice dress. Match her eyes, wings, and mane all together into a really nice combination that will impress all of the other magic ponies flying around the rainbows!
Makeover and Styling Games - Make Up Place - Make Up Games.
Manicure and Pedicure Fashion - Decorate the nails with stickers, stones and patterns. Change the shape and length of the nails, choose a polish and see the final results!
Manicure - Many original rings and bracelets.
Marge Simpson Dress Up - Get to dress up Margie Simpson, a famous cartoon character from The Simpsons.
Maria Pop Star Dress Up - Help Maria get dressed up before hitting the stage.
Mary Rose - Life, Music and dress up. Great game of dress up and music.
May Day - The first day of May is known as International Labor Day which is to celebrate the workforce all over the world.
McKenzie Mckay - Wild Animal Rescue dress up game.
Mean Girls - This cute girl has come to your shop to find some fashionable clothing. Lets see if you have what it takes to help out a customer, usually the customer likes to look really good or they will never buy the items your showing so make sure you choose your outfits and styles wisely.
Medieval Gal - You have woken up to find yourself in the medieval era. In order for you to fit into this new time and new land you are going to have to look the part. Choose from a wide variety of medieval gowns and accessories so that you can fit in and lead a normal life with the local villagers. Once you have chosen you clothes and accessories feel free to explore your new land and possibly take the adventure of a life time.
Medieval Knight Dress Up - You are the only female knight in all of the land. It is your task to protect the front gate from whomever may seek to harm the royal family. Before you can start your guard shift you will have to choose what clothes you need to wear so that people who who you are protecting. Once you have chosen your clothes remember to take your sword as a knight is not complete without her sword.
Meegos - create a male or female Meego
Megan - Little girl dressup.
Megan Fox Celebrity Makeover - It's Disco time which means you have got to help this model get ready for party. She will also need a makeover to hide those imperfections that she might have. We all know how important it is to look smart and fashionable so help this girl look the best she can.
Mermaid's Home - Design an underwater home for this mermaid!
Mermaid House - You can make an mermaid house, an aquarium or a magic under sea house.

Mermaid Pond - Create a fantastic world where mermaids would love to live.
Mermaid world - The underwater paradise.
Merry Christmas Girl - Dress the Girl in Holiday clothing.
Messy Bedroom Cleaning - Yup thats right! This game has made cleaning your bedroom fun! The quicker you can clear up the mess the more points you will earn! You will need to be quick though, there's lots to clean up and its not easy to put everything back where it belongs. To play this game you will only need your MOUSE, you simply click an item then drag it to the new location.
Michelle Trachtenberg Celebrity Makeover - The well known Celebrity Michelle Trachtenberg has called upon your services to make her look as cool as possible with the few items she took on her vaction. Make sure Michelle is looking good because she never knows when there could be a camera taking her photo.
Miley Cyrus - Dress the star of Disney Channel series Hannah Montana.
Miley Cyrus Celebrity Makeover - As the one and only leading stylist on the Hollywood scene Miley Cyrus has come to you for a complete makeover. You have to restyle her hair, makeup and clothes for her fantastic up coming pop concert. Just remember to give her one of the best makeovers you possibly can as you never know who might be attending her concerts. You may become even more popular with the other celebrities depending on how well you do.
Miley Cyrus dress for School - In this game, instead of the more typical Miley Cyrus dress up game where you dress her up for stage or the red carpet, you can dress her up for a typical school day in a typical high school.
Miley's and Lilly's Spa-Tacular - Rock out with Miley and Lilly at their Spa-Tacular Sleepover!
Milk Jelly Fiesta - Time to cook the Milk Jelly Fiesta desert. This game will teach you how to cook this super tasty milk jelly desert so you can enjoy it with friends and family at the party later on tonight. Make sure you follow the games instructions to perfection so you dont make any mistakes, we want this desert to taste perfect!
Millsberry - play games for millibucks to decorate your house, shop for clothes and much more.
Minnie Mouse - Minnie Mouse has a date tonight with Mickey Mouse, help her choose an outfit that will make Mickey say WOW.
Mini Birthday Party Scene Maker.
Mini Camping Maker - Very cute camping creator, with people, bugs and lots of cute stuff!
Mini-Doll House - Six very cute and simple to use doll houses in flash, you need to arrange all the elements in the little homes.
Mini Fashion Maker - a Free Dress Up Game with 4 cute little girls to dressup with the latest fashion trends.
Mini-Flower shop - Create a beautiful tiny flower shop.
Mini Hospital - Create a Mini Hospital with doctors, nurses and patients, very cute.
Mini-office maker - Create a cute little busy office.
Mini-Mall maker - Be creative and create beautiful tiny fashion stores full of the latest trends.
Mini Maids - help them clean the hous before the owners arrive.
Mini Penguin World - Create a perfect penguin paradise.
Mini Puzzles at Home - This game features numerous little mini games, from jigsaw puzzle games to a dress up game, something sure to interest everyone. When you are done playing all the little mini games, your virtual home will never have looked cleaner, or you more fashionable.
Mini-Room Maker - make the room of your dreams!
Mini-Sleepover - the pajama party maker!
Mini Tales Maker - Create a scene with some classic tales like: cinderella, snow white, peter pan, etc...
Mini-Mizer - Picture yourself in plastic.
Miranda Manicuranda - Give Miranda from Lizzie McGuire a Manicure.
Miss O and Friends - Make your own Jewelry.
Model Designer - Do you have what it takes to be a model designer?
Mom & Baby Evening Walk - Go out for a leisurely stroll with mother and daughter! Autumn is upon us and it is time to pick just the right outfits for both Mom and baby! Enjoy the weather, the park, and your cute puppy who is tagging along to have a nice time as well. You are the cutest pair at the park!
Mommy And Me - Mom needs to pop out with her little girl. She will only be seen in public as long as she looks fashionable. Help the mom and the little girl look as good as possible for the streets of the big city. Downtown is lovely this time of year.
Mommy Cat - The best way to learn how to care for a kitten is to learn from the Mommy Cat! She'll show you everything you need to know about taking care of a pretty little kitty from playing with toy mice to feeding her tuna fish! After playing this game, the best mommy for this cute kitten will be you!
Monamorphosis - kind of strange, but fun!
MonkeyPow. - dress a monkey.
Monkey Dress-Up - Fashionable Furry Friends has just added a Monkey to other animals: Pony, Chihuahua, Bunny, Kitty, and Puppy.
Monique the Merry Mermaid - Monique the Mermaid loves to hang around old ship wrecks and massive coral reefs. But she has to watch out for science channel camera crews! If they ever find her dressed in her colorful scales or sparkling crowns, then they'll wonder where she came from! Dress her up and hide her from the traveling ships!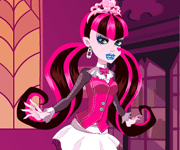 Monster High Series - Draculaura Dress Up
Monster House - Costume creator
Monster Maker - Create your own customized monster! (Great Game from Scotttoons!)

Monster Smash - Ever dream of owning your own Pokemon? Travel the world and find all new Pokemon breeds in this awesome dress up game. You'll need the equipment and speed to catch the rarest monsters, but don't get discouraged. With your trusty Pokemon at your side, you'll easily catch 'em all!
Moon Children Maker - Here you can select lovely Moon Children for your scenes, to decorate. Choose flowers, misc, glitters, decorations items. Use your imagination and enjoy!
Motorbike Speedway Girl - This girl needs to get ready for her championship race round Silver Stone! Shes a little worried about her outfit for such a race, do you think you could give her a hand to choose the perfect outfit for such a special race!
Mr. Jacko head - create a Michael Jackson head
Mr. Picasso head - create your own Picasso picture
Mrs. Peter Rabbit - Wedding dress up. (click on play the game)
Mucha Lucha - Build your own Wrestler!
Music Teacher Fashion Styling - The music teacher at your school always dresses a little old fashioned, lets see if you can dress her up to be more fashionable and fun to look at. Your dress up skills are going to be tested! Make sure her new outfit is appropriate for a classroom of children, we don't want the kids to be distracted!
My Fashionable Mom - This mom needs your help, she is about to take a stroll in the high street so she can find a new outfit for tonight. This trendy looking mom wants to look good when she goes out with her friends tonight! Help mom dress up for her stroll in the high street, use all the different items that you have available so she looks great.
My Fair Cinderella - In this game, you are the fairy godmother who gave Cinderella her wish: help her find a wonderful dress and give her a beauty makeover so she can make the prince fall in love with her.
My Fairy Doll - Just like you and me fairies love to get dressed up and looking their absolute best. So help out this little fairy by dressing her up. Who says just because you are a few inches tall you still can't look awesome?

My Imaginary Friend - Rebecca's best friend moved away a long time ago, but Rebecca still thinks she comes back to the neighborhood to play tag and hang on the monkey bars. Rebecca's not about to let her good friend go, so she's going to find the clothes to match when her best friend comes back to town!
My Little Cookie Kitchen - Making a cookie for your kid is always a special moment. How about making it colorful? From the cookware to the cookie!!! Why should cookies stay just rounded? Choose the shape that your child likes. Make sure you bake it to the perfect temperature. Decorate the cookie and make it more interesting to your kid. It is cookie time!!!
My little Pixie - Create Pixie's in an Enchanted Forest.
My Little Pony - Lots of great activities!
My Little Pony - Ponyville Forever!
My Little Scenes - Make your special Bathroom
My Love - Couple doll Maker
My Lovely Teacher - If looks could teach, then everyone in this class would be straight A students! However, this elegant teacher easily distracts the entire student body either because of her ravishing good looks or her unbelievable style.
My Mini World - Create a litte planet with a little perfect world. Choose one of the four season's and start to play.
My Moonbase - Build a settlement on moon, mars, a far snow planet or on a space platform. you will find lots of construction parts to build the spacestation in the way you want to have it.
My Princess Palace - Create your favorite Palace.
myscene.com - Go on a shopping spree!
myscene.com - room maker
My Sweet 16 Dress Up - It is your 16th birthday, and the party has not yet gotten started because you have not arrived yet. Pick out your favorite clothes for the party so you will look your best on this very special birthday!
My Sweet 16 - A secret admirer has invited you to your high school dance. I wonder who he is?
Mystery In The Art Class - Lara is not impressed with Lea in the Art Class, Lea is always getting all the attention in school, especially in Art Class! Lara comes up with a great idea to try and stop this from happening! Al you have to do is help Lara mess up all the paintings Lea does. For this plan to work you need to do it when Lea can't see Lara messing up her work of arts!
Mythical Creatures - Create 5 mythical creatures and see them come to life.